We Are No 1 A-GoGo
Renamed from Champion 2. Thai run gogo that suffers from overly long dancing stints for the girls.
April 2018
Key
Takeaway:
1000

All in:

65
120
75
120
Make sure you get your change, the bar seems to assume that small change is a tip without asking first.
Review from Dick Farang, January 2018: Lords and Ladyboys
About two weeks ago I too happen to have been drinking at We Are No 1 A-GoGo in Jomtien.

I think Dave's ladyboy radar does not function very well as I noticed two of them, one who went on stage and another one, also a dancer, who was hiding in the toilets.

Apart from the old, fat and ugly women, I saw a half decent one who was as drunk as a lord.

The tiny waitress seems to have vanished and the security man is now roaming the place.

I doubt you can still get an all-in experience for 1,000 baht at We Are No 1 A-GoGo. Many moons ago I barfined a young spinner from there and I paid 1,000 baht for the barfine only.

If I remember correctly bottled Heineken is still 120 baht and Chang draught 55 baht.
Review from Dave, January 2018: Fat chance
I popped into we are the No 1 agogo just before Christmas. Nothing much has changed.

There was no sign of any Lady Boys or Midget waitresses,

There were 7 or 8 reasonable dancers and 1 old fat one. Guess who came and sat next to me? I ignored her but she wouldn't go away, sat there for half an hour till she had to go and dance. While she was dancing I moved the stool she had been sitting on. It didn't work she soon put it back. She sat there for 5 mins then finally fucked off.

None of the other girls approached me, although there were several without punters.

There was an extremely Fat man sitting at the stage, he was so big he could not walk unaided. He had 2 girls all over him.

If you want a cheap drink with some good music, not a bad way of passing a couple of hours,
Review from Dick Farang, June 2016: Alive and Kicking
There has been a (false) rumour on internet that We Are No 1 A-GoGo in Jomtien had closed, but I can confirm that they are alive and kicking.

They even have hired two young topless spinners. They still have two ladyboy dancers, several old fatties and the probably shortest waitress in Jomtien.

Four of the dancers are on stage at any time and they go on and off stage the old-fashioned way, i.e. one at a time after not too long dance stints. All of them appeared to be double bottomed.

One other customer.

The music is still a mix of good old rock and pop, "Sir" Rod Stewart included. They also play that funny song " Who the Fuck is Alice ? "

Just for the record, I got my change correctly returned, which nowadays is not everywhere the case.

Bottled Heineken still 120 baht, Chang draught 55 baht all night.
News from Ishi, July 2015: Late opening
The notice proclaiming 8pm opening was spotted on a weekday and the bar may open earlier at the weekend.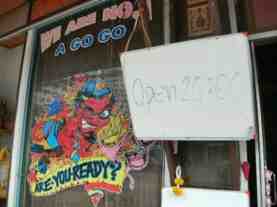 Review from Dave, December 2014: Music was great
I popped into the no I Gogo in Jomtien Monday evening.

There were 6 overweight and below average girls in Bikini's. The 2 prettiest girls were Ladyboy waitresses,

The music was great though and beer very cheap at 55 baht for draft

Bottled beer 100.
Review from Dick Farang, October 2014: Beware
I will never understand the rationale behind creating confusion by hiring girls and transvestites at the same bar (such as their neighbours KiK and USABAR also do) or gogo (such as Miami A-GoGo on Soi Post Office and We Are No 1 A-GoGo in Jomtien).
Review from Dick Farang, May 2014: Changes
We Are No 1 A-GoGo in Jomtien has indeed reopened.

The interior has remained unchanged and the music was still 1970s.

There were about 10 bikini dancers, 4 of them on stage.

No nudity.

Most dancers were older or chubby, one ladyboy.

Two of the waitresses were ladyboys too.

Draught beer 55 baht (still at 11 p.m.), bottled Heineken 120 baht.